Uzbekistan 1 - DP Korea 0
Sergeev 62'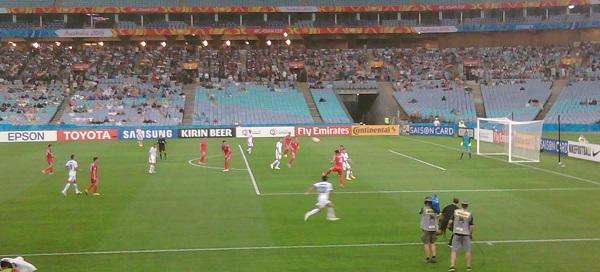 Tonight's clash was between a side whose country has a reputation but the national football team does not and another country where its reputation is almost non-existent. Everyone knows about the Democratic Republic of Korea (North Korea) because it is run by a totally insane regime but virtually no one knows anything about Uzbekistan.
Uzbekistan are setting to correct that anonymity on the football field; having made it to the quarter-finals or better of the Asian Cup in the last three tournaments. In this match, I'd expected Uzbekistan to run riot over North Korea but the men in red weren't having that.
Uzbekistan opened with a 4-4-2 and basically camped in the final third of the pitch for extended periods. They frequently prized apart North Korea's back line but consistently found that just because they could draw defenders out of position, they couldn't put anything through the defence. North Korea's central pair played compactly and orderly.
In the 14th minute, Uzbekistan's best chance of opening the scoring, came from a corner and Timur Kapadze's head, but it was deflected by a North Korean defender. North Korea's goalkeeper Ri Myong Guk also looked calm between the sticks and his athletics behind the back four ensured that the match remained scoreless going into the half-time break.
Not long after the second half began, the light rain which had been falling suddenly turned into a deluge and the pitch went from being billiard table felt to a damp kitchen sponge. Instead of the ball skimming nicely across the grass, it sort of squidged. This however caused zero changes to the intensity of the match and if anything, it brought out the technical aspects of the two sides. If anyone wants to know
where the Aral Sea has gone
, it came to Sydney tonight.
The breakthough finally came when Sardor Rashidov broke down the left flank and crossed to Igor Sergeev who duly headed it past the flailing keeper in the 62nd minute. North Korea immediate stepped up from 4-5-1 to 4-4-2 and brought on Chol-Song Om to partner Pak Kwang-Ryong up front.
North Korea though, looked hesitant on the ball when they did make it into the opposition's 18 yard box and that hesitation mean that when they did finally pull the trigger to shoot, the Uzbeki defence was already sorted.
Deep into extra time Pak Kwang-Ryong almost stole back a point as he headed a corner but the hands of Uzbeki keeper Ignatiy Nesterov were as safe as a bank vault - no one would get inside today.
Uzbekistan can be happy with their 1-0 victory and securing the opening points in Group B but if they want to continue further in the tournament, they'll need to shoot from somewhere slightly closer. North Korea lost this match through a case of timidity and not having enough players drive forward on the counter attack. They need to find an ants' next and sit on it for a while - anything to make them a little bit more angry and less timid.