http://www.dailytelegraph.com.au/sport/motor-sport/formula-1-australian-tv-rights-to-be-shared-by-ten-fox-sports-foxtel-in-five-year-deal-from-2015/story-fni2fu80-1227217569413
FOX Sports has scored a major coup by securing the broadcast rights to Formula 1 racing in a historic five-year deal alongside Channel 10 and Foxtel, in time for the 2015 season.
In a big win for the sport's diehard fans, Fox Sports will air the entire 2015 season lock, stock and barrel, with every race, qualifying and practice session set to be shown live and in high definition for the first time in Australia.
With just a month until the Australian Grand Prix at Albert Park, Foxtel, Fox Sports and Channel 10 have combined to sign a new five-year deal for the Australian broadcast rights.
Heading into their 12th year of covering the sport, Ten will continue to show all 20 rounds of the 2015 championship on free-to-air, but only 10 of the races will be shown live.
- Daily Telegraph, 13th Feb 2015
"In a big win for the sport's diehard fans?"
Certainly not.
This is not a big win for anyone except Fox Sports. This is not a win for anyone who doesn't have cable television because there is now a fee of $750 to watch what you used to be able to see for free. This is not a big win for existing Fox Sports subscribers because they're only going to see extra practice sessions - that might be a little win.
It doesn't surprise me that the Daily Telegraph would be cheering on its News Corp Australia sister Foxtel but to call it a big win, is something of a taunt.
Let's put this in perspective. After looking through the microfiche films at the library, although I haven't been able to prove the case for the 1983 season, I can say with a fair degree of certainty that all 16 races of the 1984 season were shown on free-to-air television on Channel 9. That means that the free-to-air coverage 31 years ago was better than it will be for 2015.
This is similar to the deal with the V8 Supercars where only six of fourteen races will be shown live, with the other eight being shown as one-hour highlights packages; probably between the hours of 1am - 4am. Again, there were twelve top line touring car races in 1984 and all twelve were live. Again, that means that the free-to-air coverage 31 years ago was better than it will be for 2015.
I am of course perfectly aware that Formula One of all things is the most expensive sport in the world and that businesses do have the right to charge money for things but like any child who has had his toys taken away, I'm not very happy about it.
I am curious as to what Hamish McLennan, Network Ten's CEO means by the comment
"We are also delighted to bring Fox Sports on board as our partner."
Partner? On what basis is this a partnership? In October of 2010, James Packer bought 17.88% of Ten Network Holdings Ltd through Consolidated Press Holdings; half of that was on-sold to Lachlan Murdoch. By "partner" does Hamish McLennan mean to say that he is grateful to Lachlan Murdoch for giving Channel Ten anything? This sounds less like a partnership and more like a pathetic kid saying "please be my friend, I'll give you all mu good stuff" in exchange for not being beaten up. With Ten Network posting a full-year loss of $168 million last year, maybe selling off the silverware is the only way to stay afloat.
Foxtel is of course crowing about taking that prize as you'd expect them to.
http://www.foxsports.com.au/motor-sport/formula-one/formula-1-on-fox-sports-australia-every-race-qualifying-and-practice-session-live-in-hd-from-2015/story-e6frf3zl-1227217591538
"This announcement is great news for motorsports fans and terrific for Foxtel. Together with FOX SPORTS we have worked hard to build a truly comprehensive motor sports portfolio and F1 is, of course, an absolute jewel in the crown."
- Foxtel CEO, Richard Freudenstein, Fox Sports, 13th Feb 2015
As a fan of Formula One since childhood though, I will continue to watch what little morsels are thrown our way.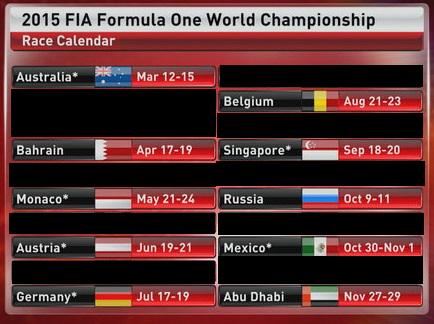 For season 2015 though, Horse will be keeping an unofficial scorecard of all the races on free-to-air this year. Since half of the races will not be on free-to-air as far as I'm concerned, they do not exist.
Points will be awarded 10-6-4-3-2-1 with a point for fastest lap and pole and the winner of the 10 free-to-air races will awarded the John Logie Baird Television Was Better in 1984 Memorial Cup.
Watch this space.