Now that we've reached the Elimination Rounds of My Kitchen Rules, my interest in the show has pretty well much fallen off the cliff. Yet as I was watching the show, in between bouts of watching Baldrick walk around Cornwall on SBS, or Rimmer looking at massive steam engines on 7Two, I couldn't help but notice that staring in front of me were all of the ingredients needed, not for another round on My Kitchen Rules but for another cooking show - a greater and more glorious cooking show that will win the fame and ovation of the people forever - Iron Chef.
You have two sets of fully stocked kitchens in Kitchen HQ, enough space to move cameras around in and even the core of what could very easily be a full roster of Iron Chefs.
What I was watching was a fully decked out Kitchen stadium but with the wrong television show being filmed in it. It was positively screaming to be repurposed and used for the part that it was born to play. Allez Cuisine!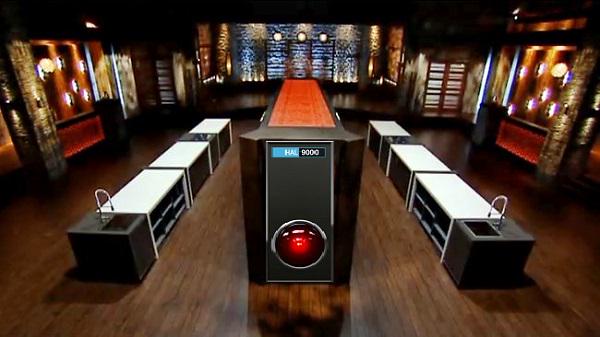 Looking back at the first incarnation of Iron Chef Australia and you very quickly realise that it was always going to fail. It was hosted by Grant Denyer who it must be said is a pretty host; he always comes across as an entirely pleasant host and that just doesn't work. The roving host does need to be kind of neutral but only if they realise that they're the least interesting part of the show. Mr Denyer as the host on Family Feud on Network Ten works so well because he is so pleasant and happy.
What Iron Chef needs though, is a anchor who is completely hat stand and so stark raving bonkers that they carry the show. It would help if they're incredibly vain and have an ego bigger than Western Australia. The premise of the show is fine but the back story needs to be so outlandish and ridiculous that it crosses the line twice. It would be utterly perfect if the producers could find someone who the public had never heard of before, to dazzle in a burst of insanity. There is a candidate who springs to mind though and that is Jason Geary, who is perhaps most famous as the iSelect guy. Heck, even cast him as the iSelect guy if the company is fine with it. Geary has already been on television before in the Micallef P(r)ogr(o)am(m)m(e) as well as having extensive improv experience in Melbourne theatre. Write a whole back story for him, about being a zillionaire and searching the world for new and exciting taste creations.
It also needs a commentary team who are absolutely serious. They fulfil the same job as the play by play and colour commentary on any sports commentary, and so they need to be able to fulfill those roles in the same manner. It can't afford to be too over the top because the commentary team aren't the stars of the show. Maybe get the existing voiceover guy from MKR for the play by play and Pete Evans as the colour commentator. Pete could give insight into why certain foods need to be prepared in certain ways and what flavours work in harmony with each other.
Next comes the task of selecting the Iron Chefs. Guy Grossi should reprise his role as Iron Chef Italian and get Manu Fiedel as Iron Chef French. Maybe if Colin Fassnidge didn't object you could get him to be Iron Chef Irish and then get Dorinda Hafner as Iron Chef Carribean, Kylie Kwong as Iron Chef Chinese and Adam Liaw as Iron Chef Japanese.
Karen Martini and Liz Egan would stay on as the two standing judges and the other two judges would be filled with celebrities, sports people, politicians and anyone else who'd be game to come on. Get people like Annabel Crabbe, Karl Stefanovic, Barnaby Joyce, Jackie O, Adam Goodes, Merrick Watts, Emma Alberici, it'd be a great hoot.
Clearly whoever has been funding MKR for the past five years has had the necessary budget to fly lots of people around the country but the beauty of Iron Chef is that you don't need lots of OB gear; nor do you need to fly upwards of 30 contestants around if the show is always filmed in one place.
I don't think for a second that there was anything necessarily wrong with the format of Iron Chef Australia, it was only the execution of it which lacked bite. I think that there's enough talent and star pulling power already within the current MKR show to make Iron Chef work but that MKR reaches a point where the show suffers from battle fatigue. This isn't even a one off thing either, it's happened on every series that has been made.
Give us a chance to see Guy, Adam, Colin, Kylie, Dorinda and Manu cook competitively and let's see just how good the hopeful chefs of Australia are. Most of them are going to lose against the Iron Chefs and that's kind of the point. If ever a challenger beats an Iron Chef, they win the fame and ovation of the people forever.