"The truth is like a lion, you don't have to defend it. Let it loose, it will defend itself" - St. Augustine

#InspirationalQuotes #Quotes

— Dymphna Boholt (@Dymphna_Boholt) April 18, 2015
Well then... RELEASE THE LIONS!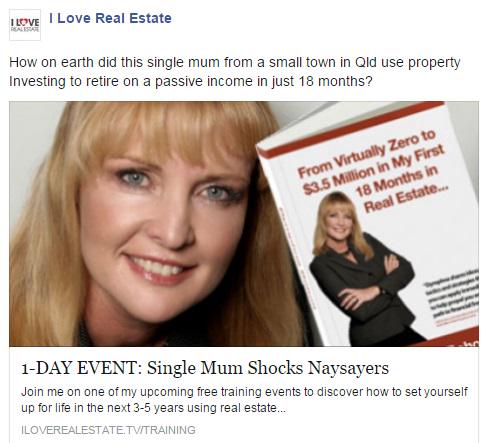 Occasionally Twitter will run promoted tweets as advertising, which they are of course entitled to do and most of the time, they are for companies who are trying to sell computer software, insurance or online banking services. There is nothing wrong with this. In fact, I applaud startup companies for thinking and employing new ways to engage with prospective clients.
Sometimes though, you run into an advert which triggers a memory. somewhere... this is one of those tales.
Dymphna Boholt, is a name which is memorable because it sounds as real as the names of various characters on Shaun Micallef's Mad As Hell. Unlike Coriander Tuesday, Dolly Norman, Caspar Johnquil, Xanthe Kalamazoo, Maggie Bathysphere or Vice Rear Cabin Boy Bobo Gargle, the name Dymphna Boholt is actually real and the lady who owns the name therein, is a real person.
I think whilst I was still working for the Commonwealth Law Courts more than a decade ago, Ms Boholt came across my radar whilst I was a court recorder in a Federal Court (which was one of many). I forget which case that was in relation to but looking at the general trend here, I can guess that it probably had something to do with real estate spruiking.
A quick Google search reveals some interesting results to say the least; especially if you follow the date stamps:
http://www.sunshinecoastdaily.com.au/news/farewell-wild-wealthy-women/347034/
Two of the Sunshine Coast's most successful businesswomen have decided to drop the curtain on a production which has made them, and many others, very rich indeed.
In a surprise move yesterday, Sandy Forster and Dymphna Boholt announced they would be closing down their Wildly Wealthy Women mentoring program later this year.
...
Ms Boholt, who is married with three young children, is also an internationally-acclaimed author and runs a number of programs focusing on real estate investment and asset protection.
- The Sunshine Coast Daily, 1st Feb 2009
Take note of this. Ms Boholt "runs a number of programs focusing on real estate investment and asset protection". From what I can gather, these programs have been selling real estate advice since at least before 2003.
The modus operandi appears to be quite simple. People attend a free seminar which is then a stepping stone to promote some other advanced training course for $3,000, a three day event for $5,000 or even a set of mentoring sessions for $10,000.
Consider the following from Ms Boholt's website:
http://iloverealestate.tv/training/
They Laughed At Me When I Said I Was Going To Replace My Income and Become A Real Estate Millionaire In 3 Years, But When I Did It Was Just 18 Months...
That sounds good and positive until you realise that this statement might not be entirely true:
http://www.austlii.edu.au/au/journals/FedJSchol/2009/6.html
7. Earlier, in 2003 and 2004 Channel Seven had heavily promoted stories on its "Today Tonight" show involving two women who asserted that they were able to help other members of the fair sex become millionaires, supposedly like them, through investment in property. The program's compere introduced the first show:
"Depna Boholt and Sandy Forster are self-proclaimed wildly wealthy women on a mission to make other women filthy rich too."
9. As events turned out, Ms Boholt and Ms Forster were not in fact as filthy rich as they appeared to suggest on the programme, they were dirt poor. But this was only revealed just before the trial when they swore affidavits that they owned no real estate at all and had minimal assets.
- The Hon Justice Steven Rares, UNSW Continuing Legal Education Seminar: Defamation and Media Law Conference, 17 March 2009
Lo and behold, The ACCC took its case against The Seven Network's promotion of Wildly Wealthy Women to the High Court of Australia and found that Seven had breached the Trade Practices Act 1974.
http://www.hcourt.gov.au/assets/publications/judgment-summaries/2009/hca19-2009-04-30.pdf
The case concerned the broadcast of two episodes of Today Tonight containing segments concerning a business called "Wildly Wealthy Women". The business offered to train women to make money out of real estate investment.
At the hearing of the appeal in the High Court, there was no dispute that the relevant Today Tonight episodes contained untrue claims about the wealth and assets of the two women who were offering the training. Nor was it in dispute that certain representations made in the episodes were misleading and deceptive.
- ACCC v Channel Seven Brisbane Pty Ltd & Ors, High Court of Australia, 30 Apr 2009
http://www.sunshinecoastdaily.com.au/news/today-tonight-admits-stories-false/349269/
Yesterday the High Court found Channel 7's current affairs program Today Tonight breached trade practices laws by entering into a deal for stories it ran on WWW's investment mentoring program in October, 2003, and January, 2004.
...
Ms Forster, a single mum of two, set up WWW with Dymphna Boholt in 2003. Ms Forster said she went from being on welfare to a wealthy business woman by following simple steps, knowledge which she gave to other women through the mentoring program.
At the time, Today Tonight ran the stories on WWW that said the cost of the nine-month mentoring program was $2995, for workshops and educational materials.
Ms Forster said many participants had become millionaires through the program but Today Tonight had taken "some things out of context" in relation to the personal wealth of Ms Boholt.
- The Sunshine Coast Daily, 1st May 2009
Presumably Sandy Forster is the driving force behind somthing called the Life Coaching Academy which offers a Certificate IV in Life Coaching, which appears to be nationally accredited. Whereas Ms Forster has gone on to something else, Dymphna Boholt continues on this path:
http://iloverealestate.tv/dymphna_boholt/
Dymphna is also the co-founder and co-director of a highly successful national mentoring program based on the Sunshine Coast called WildlyWealthyWomen.com. Dymphna also organises events of her own and sells educational products around the world ranging from free and low cost articles, reports and audios through to comprehensive home-study packages on a range of topics.
I wonder what an unsuccessful program would look like if WildlyWealthyWomen.com is described as "a highly successful national mentoring program", considering that it closed its doors five years ago.
The thing is that I don't actually know if "I Love Real Estate" is a scam or not but when you see regulatory bodies like the ACCC, the High Court and even Consumer Affairs Victoria making noises, it makes you wonder.
http://www.parliament.vic.gov.au/images/stories/committees/lawrefrom/property_investment/submissions/Submission_No_16_-_Consumer_Affairs_Victoria.pdf
In August 2007, CAV's Compliance and Enforcement inspectors attended the "Real Estate Investment Seminar" presented by Dymphna Bolt at the Rydges Hotel Melbourne. At this seminar, inspectors distributed consumer legal rights information to seminar attendees. The information warned consumers about reading documents carefully and that no statutory cooling off period applied to any contract consumers entered into with the speaker or the promoter of the event.
-
Minister for Consumer Affairs (Vic), Nov 2007
Perhaps the best test to apply here is the Duck test. That is, if it looks like a duck, swims like a duck, and quacks like a duck, then it probably is a duck. On the face of it, I Love Real Estate sounds like real estate quackery. I wonder if Ms Boholt has a bridge to sell us.