Before the race even began, rumours began floating around that the bitter divorce of Red Bull and Renault was finally coming to fruition. In Monza, after Mercedes had spent all of their "development tokens" and came out with their B spec car for 2015, the Red Bulls looked even more inadequate and down on power than before.
Red Bull announced that they and Toro Rosso were going to but Ferrari customer engines in 2016 and 2017 and that the Volkswagen-Audi Group had preliminary contracts in place to buy the team. If this were to happen, they would keep the Red Bull sponsorship but as yet the name of the team has not been announced. If this does come to pass, then I rather hope to see the name Auto Union revived. Renault in the meantime have tabled plans to buy Lotus outright again.
The other rumours which are out there include the new Haas F1 team putting out feelers to procure the services of Romain Grosjean and Sergio Perez when they arrive in 2016. Haas intends also to be a customer of Ferrari engines but I haven't as yet found any solid announcements which confirm this.
The nature of the concrete lined street circuit in Singapore is such that it tends not to produce interesting races. The very longest straights are still quite short and the braking areas at the end of them tend not to be large enough to allow drivers to dive under each other. The grand prix at Singapore tends to be processional and this year's race was no exception.
Owing to the fact that the straights are so short, the Singapore circuit tends not to be a power circuit and so the driveability of the chassis come into play. In qualifying, Hamilton and Rosberg found themselves behind both sets of Ferraris and Red Bulls with Vettel, Riccardo, Raikkonen and Kvyat all ahead of them.
McLaren appeared to have found something new from their cars with Alonso and Button appearing in Q2 for the first time this season and qualifying in 12th and 15th respectively.
Apart from one of the Toro Rossos bogging down at the start, the order remained as was until the first round of pitstops when on lap 10 Grosjean came in, then Alonso, Sainz, Nasr, Maldonado on lap 11, Hulkenburg on lap 12 and Kvyat and Massa on lap 13.
When Massa exited the pits on lap 13, the almost unsighted Hulkenburg who thought that he had enough space to easily turn in on Massa at turn 3, found that he didn't and was hit in the rear left by Massa who had nowhere to go. Hulkenburg was sent backwards into the wall and later given a three position penalty at Suzuka (which for the purposes of this blog is a non-championship round because it will not be shown live on free-to-air television in Australia) and Massa would eventually retire on lap 31 with differential issue resulting from the collision.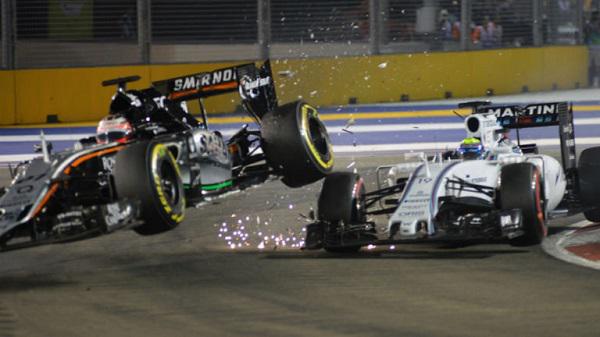 Felipe driving by.
Felipe driving by.
Felipe driving by until he's hit by a Force India.
- Nico Hulkenburg does not want to wish Felipe Massa a Merry Christmas from the bottom of his heart.
Danill Kvyat who must be the unluckiest driver of the grand prix, pitted on lap 13 before the incident occured and would suffer a similar fate later in the race, fell back to 6th when on lap 14 Vettel, Riccardo, Raikkonen, Hamilton and Rosberg all pitted under the safety car.
On lap 19 when the debris had been cleared it was all systems normal and Vettel began to ctrol the pace in front of Riccardo and Raikkonen; maintaining a pace which saw all three of them covered by less than 3 seconds for the next twenty laps or so.
On lap 27, Lewis Hamilton complained loudly that he had a loss of power and began a slide down the order with Rosberg, Kvyat, Bottas, Perez, Nasr, Alonso, Button, Massa, Verstappen, Grosjean, Maldonado, Eriksson, Sainz and Formula One debutant Alexander Rossi in the Marussia making his very first overtake for position all passing the ailing Hamilton. Hamilton's day finally came to a sorry end on lap 34.
Maldonado came in for a second set of tyres on lap 28; Eriksson and Sainz did likewise on lap 29 and there was a short break until Perez and Nasr both came in on lap 35.
On lap 36 the end of the race started to take shape as Perez passed Grosjean by threading the needle underneath one the grandstand complexes and Button who had stayed out enjoyed the dizzying heights of 6th place before Kvyat reasserted the position.
On lap 37, Verstappen joined the club of the unlucky when he pitted from 14th and a safety car was called after a spectator somehow made their way onto the circuit.
Vettel, Riccardo, Raikkonen, Rosberg and Bottas all changed tyres and with that, that phase of the race was over.
On lap 41 when racing was resumed, Jensen Button ran into the back of the hapless Maldonado who appeared to break the rule of trust that Formula One drivers have that once you exit a corner, you accelerate out of it. It could have been a mechanical issue on the part of Maldonado though.
Sainz out drove Nasr on lap 41 and both he and Verstappen fought past Maldonado a lap later. Four laps later Verstappen and Sainz made short work of Grosjean, with Verstappen's job being made easier when Grosjean out braked himself on lap 47 and ran out of room.
On lap 53, Button ran out of gears when his gearbox decided to become a box of yuks and refused to work any longer.
Nasr and Eriksson both found their way past Maldonado who dropped to 13th on lap 56 and Nasr made his way past Grosjean on lap 60.
On the final lap of the race, Grosjean pulled the car into the pits with a problem and did not finish and Toro Rosso asked 17 year old Max Verstappen to stand aside and let Sainz through for 8th. In a display of teenage petulance, Verstappen emphatically refused to with a very loud "No!" across the radio. One wonders what, if any action, Toro Rosso will take.
Apart from Hamilton who did not finish and Kvyat who lost two spots, the top positions remained unchanged for all 61 laps. Vettel won pole position, led every lap and won the race and would have ended up with perfection except that Riccardo stole away the fastest lap.
Vettel's performance was stellar and one wonders if the tide has turned albeit too late, or whether this is just a blip in Mercedes silver steamroller. The heat from following behind cars isn't something which the Mercedes have been tested in much this year; maybe they are a little bit fragile. Rosberg's performance in fourth would tend to deny this though.
Race Results:
1. Vettel - Ferrari
2. Riccardo - Red Bull
3. Raikkonen - Ferrari
4. Rosberg - Mercedes
5. Bottas - Williams-Mercedes
6. Kyvat - Red Bull
"The John Logie Baird Television Was Better in 1984 Memorial Cup"
at the end of Round 6 in Singapore looks like this:
37 Hamilton
37 Rosberg
24 Vettel
8 Massa
11 Riccardo
11 Raikkonen
7 Kyvat
7 Bottas
4 Grosjean
2 Perez
2 Nasr
1 Hulkenburg
The Constructor's Championship is thus:
74 Mercedes
35 Ferrari
17 Red Bull
15 Williams
4 Lotus
3 Force India
2 Sauber