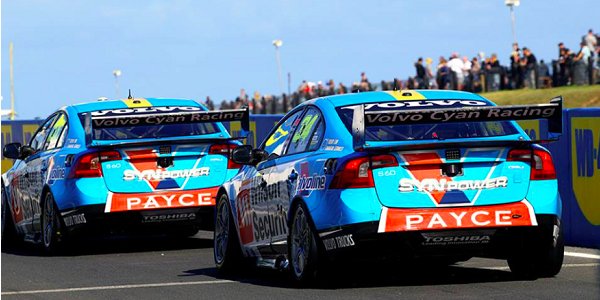 Get out of the blue and into the black.
They give you this, but you paid for that.
And when you die, no you won't come back,
Because you're out of the blue and into the black.
- Hey Hey, My My (Into the Black), Neil Young (1979).
On December 9, 2013, the then Treasurer Joe Hockey thundered and dared the automakers to leave Australia. The next day the three automakers took the dare seriously and collectively decided to end car manufacturing in Australia by 2017. So that looked bad for a start.
Meanwhile on December 12, 2013, V8 Supercars CEO James Warburton, Foxtel CEO Richard Freudenstein and FOX SPORTS CEO Patrick Delany, practically held the pistol of corporate opportunity to the head of Ten Network Holdings Hamish McLennan and signed a six year media rights deal worth $241 million.
In the meantime News Corp, Foxtel and Discovery Communications trief to make a takeover of Ten Network Holdings in 2014. This was opposed but on June 15, 2015, Foxtel bought 15% of Ten Network Holdings after Discovery walked away from the whole thing.
And haven't Foxtel been a right royal pack of vultures? Not content with buying 15% of the company, they've been content with stealing the assets of Ten away, including the rights to V8Supercars and Formula One. Ten Network Holdings was already in trouble with a share price of 50.5c in June 2012 and falling away to just 19.0c in June 2015. The company hasn't paid any dividends since November 2011.
Hamish McLennan realised that he was in possession of a curate's egg and so resigned in June of 2015 and if you adjust for the fact that the company went through a 10:1 share consolidation in November last year, today's share price of 97.5c actually means that the company is worth just 19% of what it was four years ago. Current CEO of Ten Paul Anderson hasn't fared much better either.
In 2014, the V8Supercars' coverage on free-to-air was slashed to just six live races per year. As a result, the ratings have fallen off a cliff.
In 2013, viewer numbers of +200,000 were typical but for most of 2014 and 2015 Foxtel were getting from 40,000 to 50,000 viewers. The highlights which might come on at 08:30pm if you're lucky, draw about 90,000 viewers.
Suffice to say, this has implications. On November 30, 2014, Ford Performance Racing confirmed Ford Australia's decision to withdraw its financial support for V8 Supercars from the end 2015.
As of today, the performance division of Volvo Cars has announced that they will not support the V8 Supercar team beyond 2016.
https://www.media.volvocars.com/global/en-gb/media/pressreleases/190450/polestar-will-not-renew-v8-supercars-contract-after-2016-season
Polestar, a Volvo Car Group company, responsible for performance offers and motorsport activities of the group, has decided to not renew the three-year V8 Supercars contract that ends after the current season.
"We have enjoyed a good cooperation with Garry Rogers Motorsport and the championship organisers, but our strategy and business objectives requires us now to focus our attention to other technologies and championships in the near future," said Niels Möller, Chief Operating Officer of Polestar.
- Volvo Cars, 4th May 2016.
You can't blame Volvo. When they signed up in 2013 for the 2014 season, they couldn't have known what was coming. From a marketing perspective, it makes perfect sense to remove your advertising from a place that it isn't going to be seen. Volvo can't see the point if the eyeballs aren't there. This is a rational decision for them.
Ford couldn't see the point continuing and so don't any more. Erebus never really got the backing from Mercedes-Benz that they were hoping for and have switched to Commodores.
Both the Holden Racing Team and Triple Eight Racing are off their current contracts at the end of 2016 and Holden hasn't confimed anything. So for Volvo to announce that they just can't see the point any more, should surprise no-one.
This is partly V8Supercars fault for selling out the TV rights to Pay-TV.Also, this is Foxtel Management Pty Limited's fault for stripping Ten Network Holdings's assets away.
If you're going to strip the ability of the viewing public to see the thing, and give us a pathetic one-hour highlights package, then you deserve to have your business model thrown up in your face like a carton of curate's eggs.