Australia 3
def.
Kyrgyzstan 0
Jedinak 40' (pen.)
Cahill 50'
Amirov 69' (o.g)
The Bruce Stadium or whatever they decide to call it these days. Hello Bruce, Bruce. Looked like a cross between a pre-school's sandpit and an explosion in a quilt factory. It was the same for both sides - complete rubbish.
After an opening flurry of shots in which six shots were rained down in six minutes, the game settled into a hard but fair tussle. Kyrgyzstan is a rugged central Asian nation in both geography and character and they showed that they were up for a physical challenge against Australia who is renowned for that kind of game.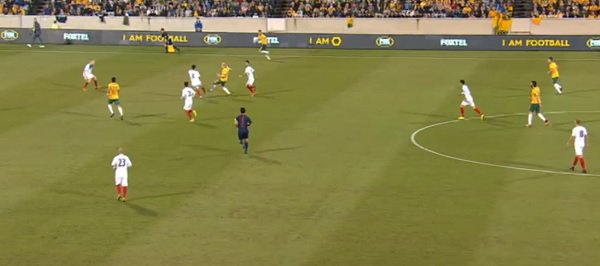 The first major chance came after 14 minutes when Jedinak supplied a cross to the mercurial Cahill whose opening shot hit the wood work. This game would devolve into the sort of game that for every second that passed, the greater the chance that one side was going to break.
In the 16th minute, Kyrgyzstan played an impressive counter and after an Ivan Filatov shot hit the defence, it fell to Viktor Maier who was brought down in the area by James Meredith. It should have drawn a penalty but instead got nothing at all.
22 minutes in and after a Mooy corner, Luongo's shot sprayed wide and four minutes later Meredith supplied a swinging cross from the left wing which hung in the air forever but Cahill's header went wide.
Tomi Juric who was nursing an injury finally succumbed to the pain and his replacement Nathan Burns injected himself into the play with vigour and pep.
In the 28th minute, Mooy fired a rocket from about 17 yards away but the brave Azamat Baimatov threw himself in front of the ball and diffused it nobly.
There was a slight lull in play as players regrouped and although Burns sent a cross in front of the defenders, Jedinak's shot went so far high and wide that it practically came back down with snow on it.
In the 38th minute Mooy put a pass into Burns and as it bounced around in an unguarded penalty area, somehow Mark Milligan managed to miss an open goal from less than 2 yards away.
Almost a minute later, Islam Shamshiev brought down Burns in the penalty area and Jedinak stepped up to take the penalty. Jedinak's strike would have been impossible to save for even the best keepers in the world, for unless plucky keeper Pavel Matiash had grown wings and become and aeroplane, there was no hope at all that he was going to save the penalty.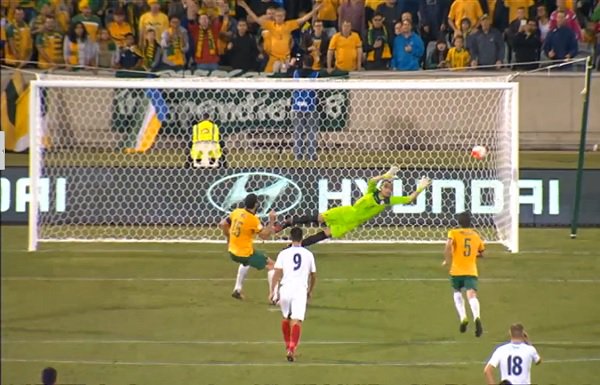 Before the half time period came, another Mooy corner also found Cahill's head but didn't find the back of the net.
After the half time break though, Mooy and Cahill would again link up. After just four minutes of the second period, Mooy troubled the defenders and threaded it through a space in the back four; without even looking, he found Cahill who blasted the ball across the hapless Matiash for the second goal of the game.
For a brief period, Kyrgyzstan appeared to have found some fight but unfortunately, Shamshiev's shot showed no conviction at all and dribbled outside the right hand post. Shamshiev would be replaced later in the match by the defender Vitalij Lux, which showed that Kyrgyzstan had gone into damage control rather than attack their way out of it.
Kyrgyzstan had retreated from a fairly attacking 4-4-2 with a diamond centre to a 5-4-1 and this proved to undo them further. They became confused and cramped at the back and for the next eight minutes, Australia began to run rampant. This would finallly culminate in the substitution of Jedinak for Troisi and Australia pushed even higher, moving from 4-4-2 to 4-3-3.
With extra players forward Australia did break Kyrgyzstan; when in the 68th minute a Mooy corner, hit the back of Ildar Amirov who turned the ball into his own net.
At 3-0 up, the nails in the coffin had been hammered in and the match kind of fizzled out in the last twenty minutes. Apart from a brief period in the 91st minute when Matiash saved a Cahill strike and then saved a second shot from Troisi who benefited from the deflection, this turned into a fairly simple exercise.
With the two top teams staying on for further qualifiers for the 2018 World Cup, Australia can not really afford to rest on their laurels. Even with a game in hand, they still trail Jordan by 4 points in Group B and so will be looking to futher consolidate (ie thrash) Bangladesh in Dakar next week.