Liverpool 4
-
Borussia Dortmund 3
Mkhitaryan 5'
Aubameyang 9'
Origi 48'
Reus 57'
Coutinho 66'
Sakho 77'
Lovren 91'
I can not point out how ridiculously happy this makes me.
After Mkhitaryan's goal went in after 5 minutes, I was disappointed. After Aubameyang's goal doubled the lead after just 9 minutes, I was positively livid. Liverpool in the league have been directionless for some time, they lost 2-1 against West Ham in the FA Cup back in February and after losing against Man City in the League Cup on penalties, the Europa League which is basically the "second chance, thanks for showing up" cup, was their only hope at taking anything away from this season at all. Nine minutes into this fixture against Borussia Dortmund, they appeared to have thrown than away as well.
After the half time break, Origi undid some of the damage by scoring his fourth goal in three games for Liverpool but Marco Reus looked to have put the knife to Liverpool's throat by scoring Dortmund's third because of a defensive brain explosion by Mamadou Sakho played him onside.
At 3-1 down, hope seemed to have been lost until Coutinho fired in a bullt from just outside the 18-yard box; to bring the score back to 3-2.
Thirteen minutes from the end though, as Dortmund turned to a defensive stance in order to shut the match down, Sakho went from villain to hero when he lowered his head to turn in a corner from Coutinho and at 3-3, Dortmund only dug in deeper.
Perhaps the game was destined to go to extra time and penalites but a slice of brilliance and cleverness made sure that this fixture ended, after a free-kick, which led to Sturridge's back heel to Milner, who crossed it onto the head of Dejan Lovren in the 91st minute.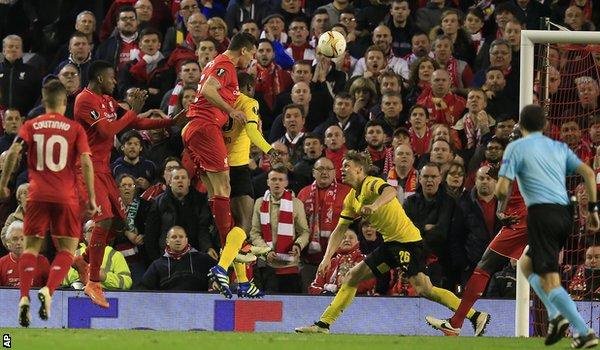 I know that this sounds ridiculous but already, I was think of a fixture from eleven years ago, when Liverpool were 3-0 down at half time, scored 3 goals in the second half and won a piece of silverware. This time around, they scored 4 goals in the second half and whilst they haven't yet won a piece of silverware, surely the memory of the dream of the impossible must be flooding back.
During the league season, Liverpool have been on occasion seemingly unable to score. I don't know if this is because tactically, manager Jürgen Klopp likes to keep all his eggs in one basket but on this occasion, it looked like both Borussia Dortmund and Liverpool had all their eggs in the same basket - and all of those eggs were being violently smashed all over the place in pursuit of one overly egged omelette.
Considering that this was against Jürgen Klopp's former club and that they would have had at least a fair idea of how he operates, then perhaps they should have made good on their earlier killer blows. The strange thing is that Liverpool actually remain undefeated by German opposition at Anfield; even if it took a German manager to preserve that record.
We now look to the Semi Finals, where Liverpool will meet either Sevilla, Shakhtar Donetsk or Villarreal.