Liverpool 3

def

Sydney FC 0
What do you get when you cross the A-League champions with club that finished fourth in the English Premier League? You get the premise for an unfunny joke and a horribly one sided affair. What you also get is a barometer for how the A-League is going in terms of quality.
A touch over 70,000 people braved a cold night in Sydney to see the recently crowned national champions and a side which has claimed a record for impregnability, be torn asunder by a side which frequently looked patchy in England. It didn't help that Sydney FC have been on holiday for three weeks and that Liverpool came off the back of an equally brutal 3-0 win against Middlesbrough on Sunday.
Both sides are reasonably well known for their defensive prowess and what we saw was a fairly timid 4-3-3 formation from both of them. For most of the match, both sides would send their front three on exploratory runs and keep seven held back. This mainly tells the story of the evening, with Liverpool able to sit higher up the park because they could wrest posession from Sydney; which meant that Sydney were constantly chasing the ball.
Almost in the opening minute, Steven Gerrard who had retired two years ago but has taken over the youth squad, proved that he would still be capable of playing in many sides. His opening shot from about 30 yards was not wildly off target and announced that Liverpool were not​ treating this match lightly. Even on an end of season tour, they were playing to win.
It was Sturridge who opened the account for Liverpool after 6 minutes on the end of a pass from Woodburn who had stolen the ball from Brilliante in Sydney's own 18 yard box. Sydney haven't been used to this sort of audacity for quite some time and the back four looked somewhat stunned at having their defensive line broken so easily. Coach Graeme Arnold did his best impression of a beetroot as he thundered about inside his technical area as though a cat had just pooped in his shoe.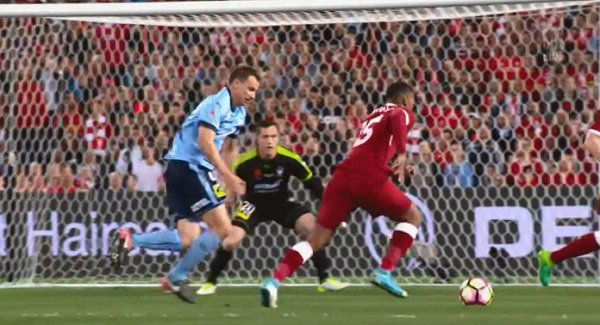 After the initial period of slight uncertainty, Liverpool asserted their dominance in the centre of the park by collectively pushing forward and crowding out the centre circle. Sydney who were forced to play within their own third simply weren't​ able to press forward if they did happen to win the ball and found that their passes were cut off because Liverpool had the numbers.
It was this push forward that allowed Firminho to lazily chip over Sydney's back four, to find Mourinho on the end; who duly doubled the lead in the 17th minute. By this stage Graeme Arnold was emitting clouds of steam and fury as he beckoned Sydney to fight back.
Perhaps the match could have been more even if just one of Sydney's roll of the dice had come up favourably. David Carney who had spent more minutes off the park than on, in the regular season, was able to find his way deep into the corners and his 24th minute cross to Alex Brosque might have put Sydney on the score sheet if Brosque had been more accurate.
Three minutes later when Sydney were able to break out of the centre, Brosque was able to evade Liverpool's defence but was smothered by Sturridge who had run the best part of 80 yards to cut him off. Carney kept on playing as this were an audition for first team football and his strike after a period of counter attack from a Gerrard corner at the other end of the park, found the woodwork. He had another attempt off of a Wilkinson cross that amounted to nothing and he would also supply a well placed chip to Zullo which also amounted to nothing.
Almost immediately after this passage of play, Liverpool who had sat back for a while, suddenly pushed forward again and Sturridge broke Sydney's defence again by dinking one player before passing it back to Firminho inside the 6 yard box for Liverpool's third goal.
Just before the end of the half, Liverpool veteran Jamie Carragher who had also formally retired but had still been as solid as ever in defence, proved that at the age of 39, that he is still made of iron, by taking out
George Blackwood.
After going into the break at 3-nil up, Liverpool appeared to quieten the whole tempo of the game. Apart from the odd strike from Alexander-Arnold, Randall and Sturridge, the second half kind of dribbled out. Matt Simon had a half chance for Sydney but​ this was mowed down by Daniel Agger who comprehensively​ wiped him out and was nowhere near making a challenge for the ball. His cries for a free kick went undrewarded by the referee who let play continue.
There could have very easily been a fourth for Liverpool as Alexander-Arnold had a shot during a mostly dead passage of play, from 35 yards away. Danny Vukovic had done his best to try and deal with the shot but ultimately he would have needed​ to be about three feet taller and the ball appeared destined to find the back of the​ net but it found the crossbar instead. Sixty seconds later, the fixture came to an end.
The fact of the matter is that I don't think that Sydney played badly or that they could have done. A 3-0 result is not flattering but it isn't any worse than what was exacted upon half of the Premier League. The result also wasn't helped by the fact that three weeks off will tend to blunt the edge off of a football team.
I suspect that had this match been played as a regular season fixture or perhaps as an FA Cup tie, then a lot of the gulf in quality would disappear. Having said that, when you have a side like Sydney FC where the entire squad of 35 probably costs less in transfer costs that just Adam Lallana, then on paper you should expect Sydney to lose. The barometer that tells you how well the A-League is going as a whole, would suggest that based on this performance, the A-League is probably better than the English Championship as a whole. Sydney FC probably would have been promoted to Premier League or if they were already in the Premier League, avoided relegation. Liverpool on the other hand, actually are good enough to be in the European Champions League. For a league which has only been around for a decade, that's remarkable.