If you'd seen the back page of the Daily Telegraph yesterday, you would have seen this: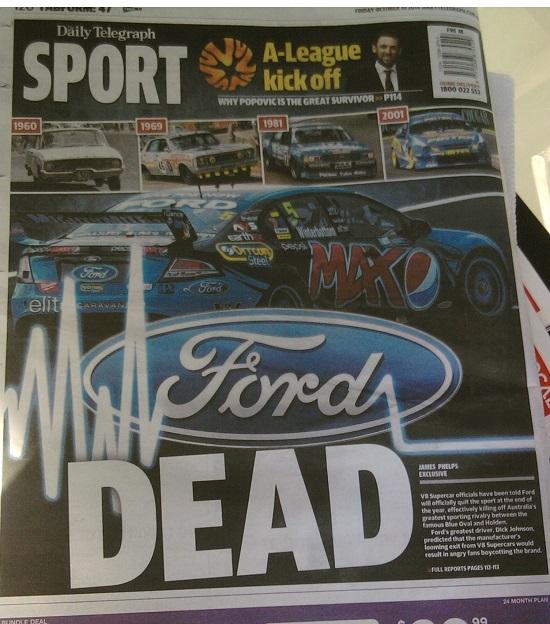 http://www.dailytelegraph.com.au/sport/motor-sport/bathurst-1000-2014-ford-to-be-killed-off-v8-supercars-circuit-at-end-of-2015-ending-iconic-rivalry-with-holden/story-fnp0lxk4-1227085430883
Bathurst 1000 2014: Ford to be killed off V8 Supercars circuit at end of 2015, ending iconic rivalry with Holden.
FORD is dead according to high level V8 Supercars officials with Australia's greatest sporting rivalry to be killed off by the end of next year.
In a Bathurst bombshell delivered on the week the last GT Falcon was built, The Daily Telegraph can reveal Ford are set to axe V8 Supercars from their $60 million sponsorship war chest in a move that will end iconic Ford v Holden Mount Panorama racing war.
With the Falcon already dead and waiting to be buried, V8 officials have been told Ford will officially quit the sport at the end of the year and will not renew a multi-million dollar year deal with reigning Bathurst champions Ford Performance Racing (FPR).
- James Phelps, (Exclusive) Herald-Sun, 10th Oct 2014
Later on Phelps goes on to say that:
The Daily Telegraph has been told six Ford Falcons have been confirmed to race in next year's series with both FPR and Penske-DJR to hit the grid with the new FGX that will not be funded by Ford.
But there's some really strange photographs throughout the piece including Dick Johnson's 1981 Tru-Blu Falcon and Marcos Ambrose's 2001 Pirtek Falcon; neither of which carried any backing from the Ford factory.
Here underlies one of the strangest tales of Australian motorsport, the fact that Ford as a manufacturer comes and goes as it pleases.
The Ford Works Team began in 1962 and ran various makes including the Zephyr, Cortina and Falcon. Ford's official end of their works team came in 1973 when they left their then favourite son Allan Moffat, in the lurch; who set up his own racing team.
Ford again kind of came to the party in 1977 and 1978 maybe? This a relationship that I don't really understand and is kind of hard to research more than three and a half decades later - between Ford and Allan Moffat Racing. The official entrants lists state "Moffat Ford Dealers" and I don't know whether that implies if Allan Moffat Racing had backing from the factory or a dealer network.
For 1979 Moffat's effort was weakened and by 1981, Allan Moffat Racing had become the factory team for Mazda.
Ford's official involvement in motorsport went totally cold from 1980 right through the era when Dick Johnson Racing ran Falcons, Mustangs and then Sierras, until the change to V8 regulations in 1993, when they threw some support behind Dick Johnson Racing.
Ford through its financial services arm Ford Credit, sponsored Glenn Seton Racing from 1996 and then officially partnered with Tickford Vehicle Engineering in 1999. This wouldn't last and in 2002 Ford backed Gibson Motorsport and at the end of the year, with British motorsport firm Prodive, bought out Glenn Seton's team to form Ford Performance Racing, which is what exists today; soon to be defunded later this year.
Get all that?
Ford have come and gone, depending on which way the wind blows, unlike Holden who have directly funded a motorsport team with a gap of about two years from late 1986 to mid 1988, ever since 1969.
Even on the world's stage, Ford are a capricious creature. Cosworth Engineering which produced the most successful engine in Formula One and derived from a Ford engine; had an on again - off again relationship with Ford who were keen to put their name on it, when it was expedient for marketing purposes.
Ford's rally commitments have ranged from full-backing to non-existent and they displayed outright anger and contempt for Ferrari when Enzo Ferrari refused to sell them his company. They retaliated by throwing money at Lola Cars and engineer John Wyer to produce the Ford GT40 and kept on throwing money at the project until it won the Le Mans 24 Hour Race in 1966; by which time, Ferrari had lost interest and given up.
I would argue that is precisely because Ford are ambivalent most of the time that they have a vocal supporter base. When you consider that between 1973 and 2013, all of the drivers who won the Bathurst 1000* did so without direct backing from the factory, Ford drivers are seen as having to fight harder.
I would expect in future, that there probably will continue to be Fords in Australian motor racing; it's just that Ford has reverted to type and Henry's lads are left floundering again.
*a list which includes John Goss, Kevin Bartlett, Dick Johnson, John Bowe, Tony Longhurst, Tomas Mezera, Jason Bright, Steven Richards, Craig Lowndes and Jamie Whincup.