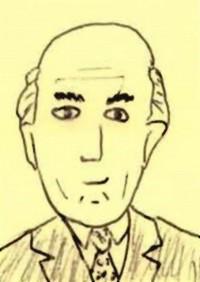 XX - William "Billy" McMahon
William "Billy" McMahon was one of the original 49ers. That is, he was part of the group of new members to the House of Representatives in 1949 when Menzies led the Liberal Party to government. By the time Gorton was forced to resign in 1971, McMahon had been a cabinet minister in various portfolios for 21 years; which is a record that still stands and would again take some pretty interesting circumstances to break.
As the most senior member of the Liberal caucus and the only really acceptable candidate for both side of the coalition, McMahon was the logical choice for the next Prime Minister
after Gorton resigned the post. What I don't understand though in any sense id why Gorton ran for and won the post of Deputy Leader of the Liberal Party. McMahon was more or less forced to give McMahon a cabinet position and installed him as the Minister for Defence but following a spate of leaks from cabinet meetings, McMahon demanded and got Gorton's resignation.
During Gorton's tenure as Defence Minister, in 1971 McMahon cancelled Australia's plans to build nuclear power stations which also would have included the ability to produce weapons grade plutonium. This was also in line with plans to sign the United Nations' Treaty on the Non-Proliferation of Nuclear Weapons, which would eventually be ratified two years later.
Set against the climate of the continuing Vietnam War, the new Opposition Leader Gough Whitlam called for Australia's formal recognition of China which he opposed. This was made to look somewhat foolish when US President Richard Nixon toured China in 1972.
McMahon held the 1972 election for as long as it was statutorily possible and released a pre-election budget which was denoted in the press a being a "pork barrel" budget (McMahon also accused the ABC of "tremendous bias" in its current affairs programs), which saw government spending increase, especially in the areas of rural spending and social security payments and at the same time reduced personal income tax. At the same time, unemployement rose from 2% to 6% and inflation also rose to 7%.
On the other side of politics, Gough Whitlam and the Labor Party's "It's Time" campaign played on like a bandwagon and people duly got on board. McMahon's government saw an 8 seat swing against it, which wasn't as bad as it could have been but it did bring an end to 21 years of coalition governments; thus McMahon became the longest serving Prime Minister to leading the party, having never taken it to victory at an election.
McMahon would go on to serve as Deputy leader in Billy Snedden's Shadow Cabinet and eventually Father of the Parliament before finally resigning from Parliament in 1982.