I don't know what if anything is going through Roy Hodgson's mind to prevent him from sending out an England squad with two strikers but it really needs to stop. England put away Sales 2-1 after being 1-0 down thanks to a stellar free kick from Gareth Bale and they really needn't have been.
Nominally England started with a 4-5-1 formation and if they didn't, that's what the patterns on the field suggested. It was almost as though Raheem Sterling was spending extended periods all by his lonesome up front; with maybe Adam Lallana and Wayne Rooney occasionally moving forward to partner him.
Wales showed extraordinary amounts of pluck as they held fast against an England side which only rarely dared to push forward beyond an imaginary line which was 25 yards away from goal. Strangely it looked like a hold and contain policy from England, which was pointless as Wales neither needed to be held nor contained.
Wales broke the goose egg deadlock in the 42nd minute with Gareth Bale pulling off a brilliant dead ball striker from 35 yards away after Wayne Rooney fouled Hal Robson-Kanu. Bale's strike cleared the wall and curled nicely downwards and to the right and it was all that English keeper Joe Hart could do to lay a feeble hand upon it before it evaded him and snuck between him and the post. Wales must have gone into the dressing room at half time with a sense that all they needed to do was more of the same as they had already done the job once for 45 minutes.
England appeared to wake up after the break and began to push forward with a little more bite; this was helped by the replacement of Raheem Sterling with Daniel Sturridge and Harry Kane with Jamie Vardy. In the jungle the Three Lions had been sleeping and it took a Red Dragon to stir them from their stupor.
There were occasions where England would break behind the Welsh back four but Ashley Williams and James Chester in central defence managed to hold together a structure which if it couldn't keep England out of the 18 yard box, could cut off any direct attacks. Apart from a weak dribbly shot from Rooney, which prompted a save from Wayne Hennessey, the Welsh forcefield held out.
England equalised in the 56th minute following a corner and a thump by Joe Vardy which banged into the ground before bouncing over Hennessey. There were calls for offside as Vardy was clearly behind the last player to such a degree that the line of the six yard box clearly delineated the fact. What the linesman had seen and the reason why his flag remained down was because the ball had come off the head of Williams which meant that Vardy had been played onside.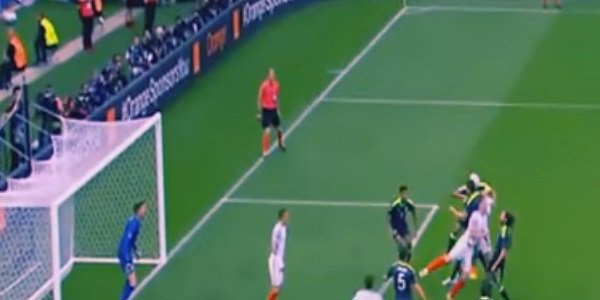 Even after the equaliser, Wales kept their nerve and even though England probably had more shots in the 20 minutes after their goal than they'd had in the first half, Wales were able to break out and play counter attacking football; with Lallana and Alli hooking up to trouble Hennessey on more than one occasion.
The match appeared to look as though it was going to be one of those hard fought 1-1 draws which everyone immediately forgets but in twenty seconds of confusion and yelling in injury time, Daniel Sturridge pushed home the winner in 93rd minute after the ball had bobbled around the penalty area like a pinball caught in a tumble dryer. Sturridge's first goal for England since the World Cup almost two years ago, was neither pretty nor confident but it was valuable, as it bagged England three points and sent them to the top of Group B. 2-1, job done.
The thing that should be taken away from this fixture is that timidity does get you nowhere. England should be a better side on paper but football isn't played on paper, it is played with 22 players, green grass and a football; there is only one football - control that and you control the game.
I think that I speak in the grand chorus of fifty years of long-suffering of England fans when I say that we prefer attacking football even if it does result in the odd loss. It is better to have gone down fighting and have been rubbish than to play beautiful diamond standard football, if the result is still going to be failure. Believe me, England fans know about failure.
England now only needs to draw against Slovakia to pick up one point to escape the group stage. Wales already dealt with them 2-0 and so again, England should be able to deal with them. It would be better though if England were to show a little more teeth because once they're out of the group stages, every match means either bite or be bitten. Even though England is on average the youngest team in the tournament, virtually all of them have played in Cup football or European competition long enough to be more than up to the task.
If Roy Hodgson doesn't want to become yet another name on the list of England managers who have failed in half a century, he should have noticed that England play better with more up front and score more goals by using more firepower.