In 2018, the Supercars (formerly the V8Supercars), prompted by the fact that neither Holden nor Ford produce cars in Australia any more, have opened the door to a different engine configuration for the first time since the rules were changed in 1993 to deliberately exclude the all conquering Nissan Skyline GTR. The Nissan Skyline GTR R32 had been specifically developed to exploit the international Group A Touring Car rules and it came to dominate every national series that it was entered in, with the exception of Australia where it proved beatable on occasion. In Australia, the local response by Holden and Ford was to develop their own set of Group 3A rules which ruled in their Commodore and Falcon respectively and ruled out everyone else. Under the older Group A rules, Holden had continued to use their 5L V8 Commodore despite it being rather heavy, while Ford, Nissan and Volvo developed turbocharged cars to some success. The Nissan Skyline GTR R32 was by most accounts the most well thought out touring car, developed from the existing Skyline GTS-R HR31 but taking the RB series of in-line 6 cylinder engine and mating it to a very robust and reliable four wheel drive system. And yet I don't think that it was the best Group A Touring Car in the world, possibly.
The FIA Group A touring car rules were brought in, in an effort to homogenise the various classes of touring car racing in Europe and make them compatible with each other. Previously they had been a general sort of mishmash with no common points at all. Initially this meant that the cars to beat were the BMW 635i, the Rover 3500 SD1, and there had been attempts to make the fox body Ford Mustang and the Alfa Romeo GTV competitive. Mostly there were normally aspirated executive cars being raced against each other but being the early 1980s, a turbocharged revolution was on the horizon.
From about 1987 onwards, the Ford Sierra RS500 Cosworth became the default choice for people wanting to buy an off the shelf touring car, anywhere around the world. The XR4i Turbo which had originally been run by the Eggenberger team in Germany, was superseded when Ford decided to throw a little bit of money at the project. After the failed attempt to win the World Touring Car Championship in 1987, the Sierra from 1988 onwards sort of blew everything else to the weeds. Then as mysteriously as it had started and as Ford invariably decides, they just abandoned the project.
In Britain the Sierra was eventually outlawed by banning turbocharging (though that idea has been overturned in recent seasons) and in Germany, the desire to run a car with no real factory support faded. In Australia though, Sierras still thundered around motor racing circuits despite the base model never being sold here.
In Germany, Mercedes Benz had played around with its 500SEC to no success at all, BMW's E30 M3 was useful on smaller circuits but hopelessly outclassed when it met anything that required vast amounts of power and then seemingly out of nowhere Audi decided that it wanted to play.
This is where the story gets interesting.
Audi had tasted success in the WRC with its Quattro and then developed that car into a Group B monster to go rallying in, before that series was deemed too dangerous. What Audi had learned in rallying was extremely useful and so when it came time to go touring car racing, they took their four wheel drive knowledge and found their own source of raw unadulterated power with the Audi V8.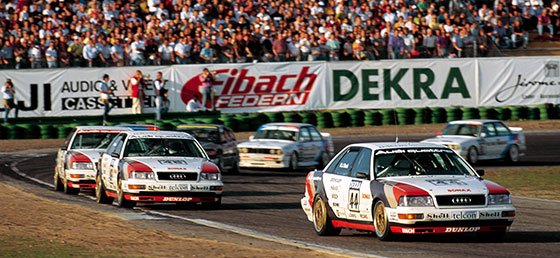 The Audi V8 which replaced the 200 Quattro had a 3.6L V8 which probably put out 480bhp in race trim. That would have been far less power than the Nissan Skyline GTR but it wouldn't be hurt as much by the weight penalty. I imagine that in time, Audi would have thrown more development at the engine had they needed to but going around against feeble opposition, they never needed to.
In contrast, Mercedes Benz who could never make their 500SEC Group A car work, could only respond with their Cosworth 190E Evo II and BMW had their existing M3. Both were hopelessly outclassed and woefully inadequate. The Audi V8 had more brute power and because it sent that power to all four wheels, it could punch out of corners more effectively. If the Nissan Skyline GTR R32 had been given the name "Godzilla" by the press, then the Audi V8 was some other kind of Teutonic monster like the Bergmönch or Meister Hämmerling because it equally hammered the competition.
The question which will remain unanswered is who would have won in the fight if they had ever met. The Nissan Skyline GTR R32 had been beaten by the Ford Sierra and the Holden Commodore on occasion but the Audi V8 never really faced any worthy opposition. They would have never met in Japan because after Alan Moffat won the Fuji 500 in 1989 with his Ford Sierra, the organisers of the Japan Touring Car Championship simply banned anyone from outside the country from competition. This meant that teams like Calsonic never met Nissan Motorsport Australia cars prepared by Fred Gibson. The Gibson prepared GTRs were beaten occasionally by the opposition and so the eternal unanswered question is how they would have fared against another properly powerful monster which also had four wheel drive.
It's worth remembering that this is the same Audi who decided to go into endurance racing and with their R15 and R18 were quite successful; so although this is definitely a case of never was, the Audi V8 and the Nissan GTR were both built according to the same rules set and so this is a case of what might have been. Both of these monsters destroyed everything else around them, I really want to know what would have happened if Gojira met Der Bergmönch .