Having successfully thrown free-to-air television off the boat (as a free-to-air viewer I didn't see the race at Ipswich's Queensland Raceway), the Supercars management is busily beating the sport to death by killing any chance that any team that isn't DJR Penske or 888 has of winning.
So far, of the 18 races held, Scott McLaughlin has won 13, Fabian Coulthard 2, Shane van Gisbergen 2, and Chaz Mostert 1.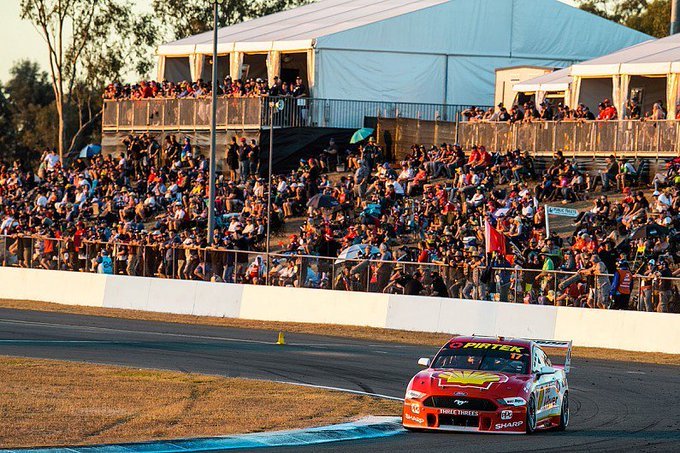 - McLaughlin 1st, Daylight 2nd, Revenue 3rd, Fans DNF
This complete domination by one team who specifically exploited the rules from the outset, has had the desired effect of taking from the wallets of subscribers while returning a string of dismal crowd attendances.
This lowering of crowd numbers and viewership numbers is also having the effect of reducing the amount of money available to the teams; which for 2019 has resulted in only 24 cars on the grid - which takes you back to the days when privateers made up the numbers in the 1980s. The fact that there will be only two dozen motor cars at supposedly Australia's "Great Race" in October is a disgrace; especially when you consider that there could be potentially another 30 cars if Super 2 and Super 3 were allowed to race in the 1000.
As for me personally I have rediscovered NASCAR, with that series posting entire races on YouTube. I have to say that with the three makes of car and a host of drivers who are all within a cigarette paper of difference in talent, it leaves the Supercars championship in the dust.
Part of the problem that the Supercars has is that it doesn't really know what it wants to be. The old "race on Sunday, sell on Monday" mentality makes no sense at all, when you consider that the Mustang for only two months of its existence in Australia outsold the departed Falcon; and the ZB Commodore has never even come close to outselling any V model of the Commodore. As for the Altima, Nissan don't even sell that in Australia any more and I think quite rightly saw zero point in developing a Supercar GTR when they already had an international GT3 program and a Super GT program..
The truth is that neither GM or Ford actually care about the sport enough to properly support it, the management has decided that the fans who grew up on the sport simply aren't worth the effort, and the general public, having watched the whole circus turn their backs on us, have responded in kind..
The big question that I have is: where to from here? I imagine that it can't be fun for the other teams to be thumped week in and week out by DJR Penske and it certainly isn't fun as a race fan to see what has essentially devolved into a procession with three Mustangs up front and the two Red Bull Commodores next.
The underlying problem is that the rules were designed for cars which no longer exist. It was then compounded by creating a control chassis which no manufacturers wanted to play with. It was then further compounded by Supercars themselves running a closed shop and selling Racing Entitlement Contracts which very nicely locks out anyone who isn't approved for entry.
We have gone from having five brands represented a few years ago, to only two, and with only one with a realistic chance of reliably winning races. If this isn't by design, then it's the result of insanely poor management
¹
, and needs to be corrected.
If I look across the Pacific
²
, I note that NASCAR is looking at their so-called Gen-7 regulations for season 2021 or 2022. This probably will mean running 5L V8s instead of their 6L V8s, and probably will also involve some kind of hybrid system. Now presumably the Supercars organisation which has pretty much poisoned the waters when it comes to running international GT3 regulations, and would more than likely reject adopting Group One regulations as is running in both Germany's DTM and Japan's Super GT series, might want to look at the Gen-7 regulations and act accordingly. Penske already run the Mustang in NASCAR and Walkinshaw Andretti Racing would probably have tie ins in America as well.
I imagine that if the Supercars were to adopt some variation of the Gen-7 regulations, then the pretense of running cars based on road designs would need to stop. As it is, the Mustang shares zero components with the road car, the Commodore will probably be dropped by Holden in the middle of 2021 as Opel which builds the car is now owned by PSA Group and not General Motors, and the Nissan Altima is already a legacy piece which isn't on sale in Australia any more and Nissan Motor Co. has already withdrawn support for 2020 and onwards.
If Supercars were to adopt some variation of NASCAR's Gen-7 regulations, then now is the time to do it as they might get a chance to shape how the common regulations would look. Since NASCAR already wants to have close racing, they run incredibly tight rules and the cars themselves are bespoke bits of kit which run almost identical body shells, save for the noses and windows in between the B-Pillar and C-pillar. I can imagine the 2022 Supercars Championship running virtually identical cars to NASCAR, save for the front splitter and rear wing assembly. Of course NASCAR would prefer to keep the doors permanently closed but that could be a job for the boffins to work out.
What I do know is that as it stands, viewership numbers are the lowest that they've been since 1992, ticket sales are anemic, the racing is a snoozefest, and the current long term future looks about as bright as a single 40 watt bulb in a gymnasium.
Addenda:
Dear Supercars,
Please put big numbers back on the doors. Offence intended: NASCAR's big numbers looks cool but the little yellow blobs on a Supercar, is not only difficult to read if you are trackside but looks really really dumb. Mind you, given your other management decisions, it's hardly surprising.
Yours,
The increasingly annoyed race fans of Australia.
¹Fining Scott MacLaughlin $10,000 for bringing a sign that says that the Mustang has won the title, at the weekend, was stupid. Fining him a further $3,000 for doing burnouts after the race is also stupid.
²Betty Klimenko might already be looking across the Pacific at NASCAR. She has indicated that Erebus Motorsport might like to have a go in America. To be honest, I don't blame her. Also, Betty Klimenko is the most joyous team owner of the whole Supercars circus.