Perhaps the most laughable story of the Belgian Grand Prix happened before a wheel had even turned. McLaren changed so many arts to their Honda powerplants that they effectively got new engines and in consequence, Fernando Alonso was given a 55 grid place penalty and Jensen Button was penalised 50 grid places. Not that this made much of a difference as they qualified 17th & 18th and the penalties put them into 19th and 20th.
Sergio Perez in the Force India made a blistering start, forcing his way around the outside of both Grosjean and Rosberg towards La Source and took the lead for a brief period. Nico Rosberg who bogged down on the start, fell back to fifth; falling in behind Bottas' Williams, and Daniel Ricciardo's Red Bull.
Very quickly though, Lewis Hamilton asserted his authority on the race and on the run up through Eau Rouge and Raidillon on the first lap, easily overtook Perez. He would never be headed again except for a brief period when he made a pit stop and Vettel would officially lead lap 14.
Rosberg would pass Bottas by the end of the first lap and after the first round of pitstops on laps 12-14, he again found himself in second.
Pastor Maldonado's Lotus mysteriously came to a stop on lap 3 as the Mercedes refused to supply any more power.
Most of the race was fairly processional from about lap 3 onwards except for Max Verstappen who bravely passed Felipe Nasr around the outside at Blanchimont on lap 11 and Grosjean passing Ricciardo on lap 18 for third.
Daniel Ricciardo's race would not last much beyond that though, when his Red Bull expired on lap 21 and came to a stop on the start-finish straight which meant that the race was brought under virtual safety car conditions whilst it was cleared. After the race was restarted, Hamilton broke free to establish a six second gap over Rosberg and for the rest of the race, the gap never really wavered.
In a comedy of errors, Williams fitted three soft compound tyres (marked with a yellow band) and one medium compound tyre (marked with a white band) to Valtteri Bottas's car. Mixing compounds is not allowed and so Bottas had to come back into the pits to correct the mistake and in addition to that he was given a drive-through penalty. What should have been a podium, became ninth place.
I understand that Formula One is a pressure cooker environment but not getting colours right is a childish error. Maybe Williams should consider hiring a technical advisor for this sort of thing. I suggest Elmo from Sesame Street.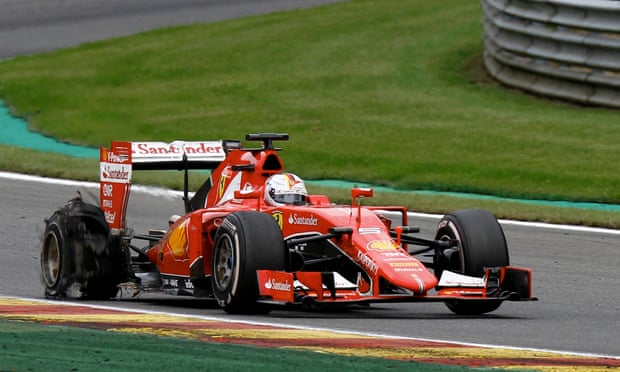 Two laps from home the rear right hand tyre on Sebastian Vettel's Ferrari exploded and he was furious. Ferrari had been told by Pirelli that the tyres were good for 40 laps and so they decided upon a one stop strategy. The tyres on the Ferrari had only done 28 laps when the right rear let go and there was no indication beforehand that it would fail. As the tyre failed at Raidillon and at just over 180mph, had it happened just a few hundred metres before, the consequences could have been serious.
A similar sort of failure occurred in Friday free practice on Nico Rosberg's Mercedes; with Lewis Hamilton and Fernando Alonso expressing concerns during the driver's briefing meeting. Pirelli launched an investigation but found no issue with the structural integrity of that tyre but two similar failures in a weekend suggests something which warrants further investigation.
The unexpected benefactor of Vettel's tyre failure was Romain Grosjean who had had a fairly quiet race in the Lotus up to that point. In fourth place was Danill Kyvat who in the closing laps passed Raikkonen, Massa and Perez in quick succession.
Race Results:
1. Hamilton - Mercedes
2. Rosberg- Mercedes
3. Grosjean - Lotus-Mercedes
4. Kyvat – Red Bull-Renault
5. Perez - Force India-Mercedes
6. Massa - Williams-Mercedes
"The John Logie Baird Television Was Better in 1984 Memorial Cup" at the end of Round 5 looks like this:
37 Hamilton
34 Rosberg
15 Vettel
8 Massa
7 Raikkonen
6 Kyvat
5 Riccardo
5 Bottas
4 Grosjean
2 Perez
2 Nasr
1 Hulkenburg
The Constructor's Championship is thus:
71 Mercedes
22 Ferrari
13 Williams
10 Red Bull
4 Lotus
3 Force India
2 Sauber