The Sochi Autodrom was built in the same phase of construction as the venues for the Winter Olympics of 2014 and although from the outset it was always intended as a motor racing circuit, the ribbon of tarmac which flows through what amounts to a concrete storm water drain behaves more like a street circuit and is as unforgiving. Carlos Sainz Jr, who has one of the most ironically unfortunate first names in Formula One, found this to his peril when he ran off the road and into a wall during Free Practice 3 on Friday. Toro Rosso worked frantically over the weekend to put his car onto the end of the grid on Sunday.
It was all systems normal during qualifying with an all Mercedes lock out of the front row and apart from the two Ferraris the rest of the first eight places on the grid were Mercedes powered. The weekend and the race was looked over by F1 supremo Bernie Eccleston and Russian President Vladimir Putin who must have been in some sort of secret competition of their own to decide which of them is the creepiest person in the world.
On the opening lap as Hamilton and Rosberg sped away from the field, going into turn 3, Hulkenburg spun his Force India with no help from anybody and tagged Vestappen's rear left wheel which caused it to blow and Eriksson in the Sauber had nowhere to go, running into and tangling with the stationary and backwards facing Force India.
Before the safety car was called out, Rosberg sneakily stole past Hamilton for the lead and Raikkonen found his way past Valtteri Bottas for third; in the start of what would become a race long argument. Somewhere in the chaos of backwards facing cars and tyres exploding, Romain Grosjean either ran into someone or decided that he wasn't getting enough front grip because he brought in a seemingly undamaged Lotus into the puts to adjust the front wing. After a twelve second pitstop where nothing appeared to happen, Grosjean rejoined the race behind the safety and behind everyone in the field.
After the restart on lap 4, Bottas flew past Raikkonen and Sebastian Vettel almost also followed suit but his Ferrari team mate closed the door; much to his annoyance. Rosberg started to complain of a strange throttle response; which could only be explained by a glitch in the fly by wire system and on lap 8, Hamilton inherited the lead. Rosberg would bring his Mercedes into the pits at the end of the lap and looked despondent when he stepped out of the car.
Things quietened down for a while and then on lap 12, Grosjean either lost front end grip as a result of what had happened earlier, or because he lost effective grip in the slipstream of Jensen Button's McLaren. Whatever the cause was, the result was that the Lotus snapped violently and Grosjean was thrown off line. This caused the rear of the car to step out in the marbles and tear itself to pieces against the wall.
During the second safety car period, Ricciardo, Sainz, Vestappen, Button and Perez all came in on lap 13; with Perez hoping to make his new tyres last the remaining 41 laps of the race. A lap later, Alonso and Merhi also came in to attempt to do likewise.
On the second restart on lap 17, Raikkonen again surrendered third place but this time to Vettel and it took nine corners of scrapping for Ricciardo to find a way past Sainz for 10th.
Again the race settled down as Hamilton progressively built a lead and the phase of pit stops of drivers on one stop strategies began to play out.
Vestappen pitted on lap 25. Bottas pitted on lap 27 and fell from 2nd; slotting into 11th but quickly passed Sainz. Vettel also pitted from 2nd on lap 31 but in the interim had built up a sufficient cushion whilst driving in clean air that he slotted back into 6th whilst Bottas was 8th. Raikkonen came in a lap later but fell in behind Bottas for 8th place.
On lap 33, Lewis Hamilton had built up so much of a lead out front, that he pitted from 1st place and rejoined the race back in 1st place. On lap 34, Vettel made use of DRS and easily got past Perez to take 4th and Dannil Kvyat who had taken his Red Bull to 3rd, finally pitted and fell all the way to 9th.
On lap 35, Felipe Nasr pitted from 2nd place, which was the highest placing that he had ever achieved in his Formula One career but rejoined the race back in 7th.
The argument between Raikkonen and Bottas continued and on lap 36, Raikkonen had managed to pass Bottas up the inside going into turn 1 but ran wide on the exit of the corner and had to surrender third place back again. This argument would not be finished just yet.
Further down the field, the McLarens who are beginning to show signs of adequacy, highlighted their last remaining problem with their Honda power units. In periods where top end power doesn't matter, the chassis is quite fine but where the regenerative braking system is supposed to collect and then redeliver power through the hybrid system, Honda still hasn't worked that out.
Maldonado passed Alonso for 12th on lap 40 and Nasr repassed Button for 10th. Four laps later Maldonado also passed Button. Felipe Massa who had been relatively quiet, stormed past Kvyat.
On lap 45, Bottas passed Ricciardo for 4th and Raikkonen managed to pass, unpass, repass and unpass Ricciardo again, a lap later.
Carlos Sainz Jr's race came to a strange sort of end on lap 47 as his front brakes started to flame out; sending him into a spin at turn 8. Most drivers would have got the message after seeing flames belching forth but Sainz didn't and spun for a second time at turn 13 (which was where he'd had his Friday accident) and he clouted the wall, thus ending his race.
Raikkonen finally made his way past Ricciardo on lap 48 but this was more to do with suspension issues on the Red Bull rather than the brilliance of the Ferrari. Ricciardo's Red Bull stopped its charge on lap 49.
The tyres on Sergio Perez' Force India started to go off and both Bottas and Raikkonen breezed past him on lap 52 but their argument would come to a violent conclusion.
On the very last lap of the race, Raikkonen's temper got the better of him and he tried to jam his Ferrari into a space that it wouldn't fit into. In the process of enforcing Finn on Finn violence, he jammed his Ferrari into the side of Bottas' Williams which destroyed the rear end of the Williams and damaged the Ferrari to the point where it threw sparks all about the track.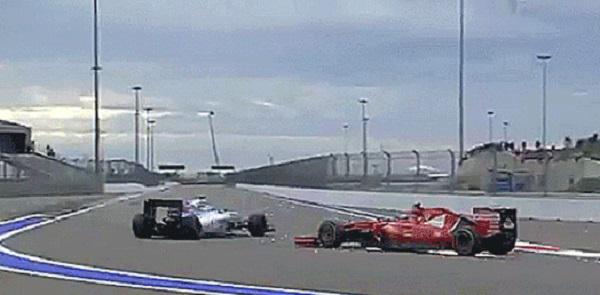 As the word "Perkele!" was shouted by both Finnish driver, Sergio Perez who had surrendered 3rd place to them earlier, suddenly inherited it back again as Bottas went out and Raikkonen limped around the track; spewing more fireworks than a local council's New Year's celebration. Raikkonen was handed a 10-second stop-and-go penalty for causing the incident, which was in no way possible not his fault despite his stream of invective over the radio. As he could not serve this penalty during the race, this became a 30 second time penalty which demoted him to eighth in the official standings.
Hamilton who remained untroubled throughout proceedings, took home a very comfortable win, with Vettel second, Perez third; followed by Massa, Kvyat and Nasr.
McLaren managed to get their cars into ninth and tenth which is either a good sign for the future or just dumb luck after the mayhem ahead of them.
Race Results:
1. Hamilton - Mercedes
2. Vettel - Ferrari
3. Perez - Force India
4. Massa - Williams
5. Kyvat - Red Bull
6. Nasr - Sauber
"The John Logie Baird Television Was Better in 1984 Memorial Cup" at the end of Round 7 in Singapore looks like this:
46 Hamilton
37 Rosberg
30 Vettel
11 Massa
11 Ricciardo
11 Raikkonen
9 Kyvat
7 Bottas
6 Perez
4 Grosjean
3 Nasr
1 Hulkenburg
The Constructor's Championship is thus:
83 Mercedes
41 Ferrari
20 Red Bull
18 Williams
7 Force India
4 Lotus
3 Sauber