Like all decent stories made from epoxy, this comes in two parts:
Part 1:
As alluded to in Horse 2516, the new Mazda CX-30 has been unveiled at the Geneva Motor Show.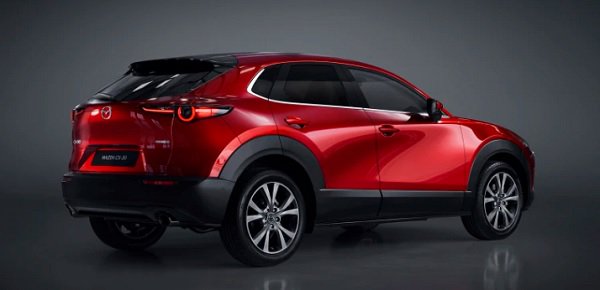 For those people not obsessed with motor cars as I am, here is a quick run down of what it is: Thingy thingy thingy, bla de bla de bla, 2.0L petrol engine, a 1.8L turbo-diesel, horsepowers, torques, SkyActive, i-Activ all-wheel drive, G-Vectoring Control system, other technical words, numbers, numbers, numbers, business, business. If you want to read those things, find a real motoring journalist and buy a magazine.
The reason why a jacked up hatchback/CUV/SUV piqued my attention is not because I like it (I really don't) but because it is named wrong. The car which is 120mm longer and 30mm wider than the current CX-3, is supposed to fit in the lineup between the Mazda CX-3 and CX-5. The logical name for it should be the Mazda CX-4 however, the number 4 in Mandarin supposedly sounds like the word for "death" and Mazda don't want to have a car which might be mistaken for a car called the Mazda Death.
Why can't I have a Mazda Death? That sounds cool. There's already a Dodge Hellcat, Ford Scorpio, Dodge Viper, Ford Mustang, that all have vicious animal names; Holden sold cars called Thunder and Storm, so why not?
Naming a car is traditionally difficult. There have been some truly horrendous cases where a name has unfortunate consequences when translated into another language such as the Mitsubishi Pajero, Chevrolet Nova and Toyota MR2, and likewise there have been some hilarious names like the Kia Bongo Friendee. The Germans have more or less given up with luxury car makers using alphanumeric names.
Nevertheless, a name like the Chevrolet Black Widow is still cool, some six decades later.
For the Japanese domestic market, Mazda already call their 2, 3 and 6, the Demio, Familia and Axela, respectively; so it's not as if the motor company is above naming their stuff. I don't see why they can't name their car CX-4 for the rest of the world and the CX-30 for China only.
Better yet, why not double down on the name and just call the thing the Mazda 'Death 13'? It wouldn't be enough for me to want to buy a jacked up hatchback but at least it would be logical. The truth of the matter is that we've all got used to cars with names after animals, places, vague call concepts and downright gibberish (I'm looking at you Mitsubishi Delica Highway Star Space Gear), so I think that the Mazda Death 13 sounds almost sensible. The Mazda CX-4 is a wee bit dull.
Or at least that's the story which Mazda wants you to believe...
Part 2:
http://cx-4.faw-mazda.com/
There it is, as large as life. The Mazda CX-4 which is a China only model.
The word sei 四 (four), sounds identical to the word sei 死 (death), in all the Han languages. Not only in every single written piece of text does the characters CX-4 appear but it even has its own website.
If the story wasn't confusing enough, Mazda have had to backpedal; claiming that the reason for the odd nomenclature is that this is to avoid confusion between two cars sold under the same nameplate in different markets. That in itself is nonsensical.
For a very long time, the Ford Escort in Europe was a totally different car to the North American Ford Escort which was a Mazda 323/Familia cousin. Holden has had the nameplate of Astra sitting on a rebadged Nissan Pulsar before switching to the Opel Astra and quite recently, the Astra name plate has been sitting on both the Opel Astra and the Chevrolet Cruze in the same caryard in Australia. Honda used build one version of the Civic and Accord for Europe and separate ones for America.
Both the CX-30 and the Chinese only CX-4 are so ridiculously close in dimensions that it boggles my mind why there would even need to be two cars. I don't know why there needs to be two different cars, and I don't know why the official unveiling had a story which made no sense. If someone wants to give me a Mazda Death 13 though, I won't turn the offer down.