The Herald-Sun in its continuing propaganda campaign to promote racism (at this point I am not convinced that it could be anything other than this), decided to publish a cartoon by Mark Knight, who was already known for his carry-on on the subject of so called 'African gangs' in Melbourne, which has depicted Serena Williams in that grand tradition of Sambo cartoons that would have been at home in a newspaper of more than a century ago.
This is a multi faceted jewel of barbarity on the part of the Herald-Sun and one that warrants looking at it from different angles to catch the various rays of darkness that emanate from it.
As with any good recipe of far-right racist baby formula, there needs to be some ingredients of truth to make it at least part way palatable before it gets vomited all over the pages of a newspaper, which is ultimately undigestable.
Serena Williams who is somewhat known for losing her temper in an undignified manner on the tennis court, was given a code violation for coaching by the umpire in the US Open tennis final, and then then deducted another point for racquet abuse deducted a point for racquet abuse and back chatting to the umpire. She spat the dummy and gave the umpire a verbal spray before finally losing to Naomi Osaka 6-2, 6-4. During the presentation of the trophies, she was booed by the crowd; so this whole incident was already an international controversy.
I would expect therefore that the Herald-Sun would take sport at this. I don't care if you are playing sport in a local competition or on the world's stage, there simply isn't a place for getting angry with the referees. They might very well be wrong, they might not be aware of the rules of the game, they might not even be watching the game that they are refereeing, there are norms that are accepted and expected that the umpires and referees should be allowed to do their job without hindrance. You simply do not talk to the referees unless explicitly spoken to.
Serena Williams smashed that norm and as such, does deserve to do the subject of sport being made of her. In that respect, Serena Williams was fair game for the subject of an editorial cartoon. This however, is where the story gets complicated.
In Monday's edition of the Herald-Sun, resident cartoonist and agent barbarian Mark Knight, published a now infamous cartoon which portrayed Ms Williams in the same sort of style in which blacks and Africans in the United States were portrayed during the time of the Jim Crow Laws. Meanwhile, I am left questioning why Naomi has Osaka turned into a blonde white woman? If this isn't about race, then why has there been an obvious whitewashing?
This has of course jumped international boundaries thanks to the internet and has subsequently become the subject of editorials in the Washington Post and New York Times.
One of the skills that a cartoonist should have in their kit is the art of the caricature; a caricature by nature relies on the art of exaggeration. We should expect that an editorial cartoon will make fun of someone's big ears, nose or some other feature that the subject is famous for. In principle, a caricature makes use of visual stereotypes and shortcuts as the prism through which to view the world through.
In case though, the stereotype which is being riffed off of, is one seated very much in a problematic history. The Herald-Sun can claim that this particular cartoon isn't playing to that problematic history but to any person of reasonable intelligence and knowledge about the world, that claim simply does not stand up. Also given the history of the Herald-Sun and Mark Knight as a cartoonist for that same newspaper, it is even more difficult to make the claim that this is anything but an ungenerous attack on Ms Williams' dignity and an attack which employs that same problematic history of race.
Of course this morning, the Herald-Sun and indeed News Corp through the Australian and Sky News (but not the Daily Telegraph which chooses to remain strangely slient), has doubled down on its usual free speech angle; claiming that it has the right to publish whatever it likes according to that same right to free speech.
Interestingly, the Daily Telegraph in Sydney, also published a cartoon to accompany a piece by Miranda Devine in today's newspaper for September 12.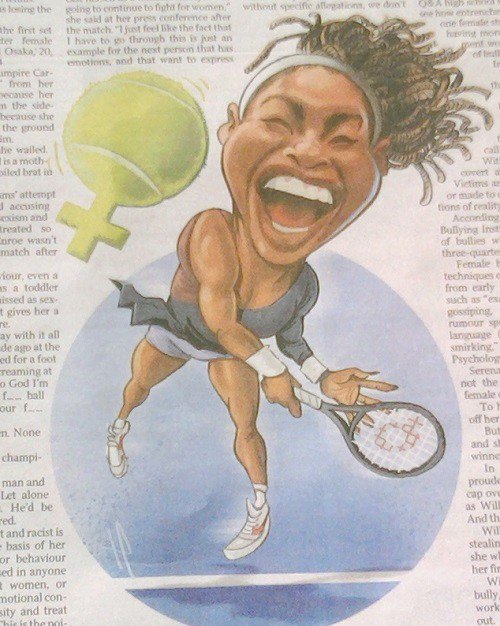 The cartoon in question does caricature her haircut, and her teeth and she's swatting a tennis ball shaped like the Venus/female symbol and Serena in the cartoon is obviously black skinned as well; which is accurate. Miranda's column is that Serena has a history of bullying umpires and that women are just as capable of being bullies as men are. It's a completely valid set of criticisms. This means to say that both the subject and a caricature can be done seriously; without resorting to obvious racism.
The Herald-Sun doesn't seem to have learned any lessons from its previous excursions down this road, when similar issues were met with previous racist cartoons by Bill Leak and Michael Leunig. The Herald-Sun is even trying to claim that it is suffering under censorship, despite the fact that these cartoons are in-house moderated and any censorship they're up against is brought by and against themselves.
In the wake of this Mark Knight appears to have deleted his Twitter account; probably also trying to cite his being censored, despite the fact that censorship does not equal outside criticism.
As I was writing this on the B1 bus to Mosman, I realised that I am the embodiment of the legal fiction of "The man on the Clapham omnibus". I am that hypothetical ordinary and reasonable person, the right-thinking member of society, the officious bystander, and the fair-minded and informed observer. I am also white; which means that in theory that I should be nominally immune from racism such as this because I am not the subject. However, I am seriously offended.
The Polish-born American rabbi Abraham Joshua Heschel, who once was living in a rented room in the home of a Jewish family in Frankfurt and who was arrested by the Gestapo, whose mother and two sisters were killed by the Nazis, who went on to be active in the civil rights movement; including in the in the Selma Civil Rights march wrote:
"There is no limit to the concern one must feel for the suffering of human beings, that indifference to evil is worse than evil itself, that in a free society, some are guilty, but all are responsible."
- Abraham Joshua Heschel, The Reasons for My Involvement in the Peace Movement, 1972
I would argue that irrespective of what our intent is, it does not matter. It isn't our intent which matters because the vast majority of prejudice, bias and racism is unconscious, but it is the effect our denial has on people who have experienced such prejudice, bias and racism for the entirety of their lives.
It is our duty to listen to people of colour when they tell us what is racist and that they suffer serious and injury and injustice due to systemic racism. It is our duty to yell loudly at the The Herald-Sun, that
this is unacceptable.